This article is about: your Magicline booking portal
Quick guide to embedding the MySports booking-portal on your studio website:
Check the activation of the MySports app and carry it out if necessary

Via main menu MySports / Administration / Studio profile

Embed the link on your Studio website
---
To ensure that the digital interface to your members works optimally, we would like to give you some information on setup and integration.
Where can I find my booking portal?
After activation in the Magicline App Store, you can find the link after clicking on the heart symbol in the main navigation in the "Online Studio site" tile: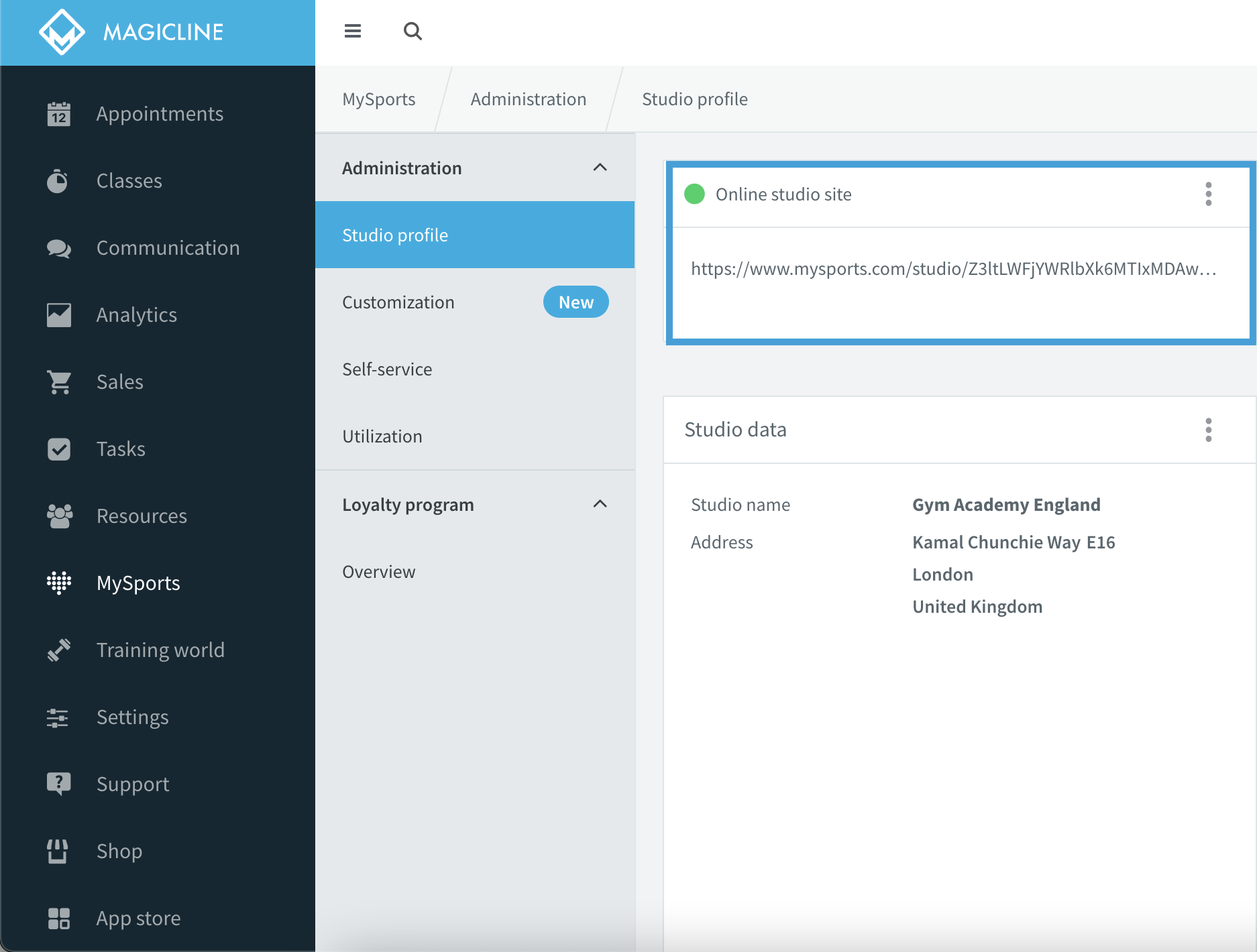 This link takes you to the presentation of your studio in the MySports booking portal. There, your prospects and customers can take advantage of all the online offers you have configured.
How do I integrate the MySports booking portal on my website?
In order for the MySports booking portal to be accessible via your website, you must include a link on your website so that members can access the MySports booking portal from your site. You should talk to the creator of your website about how best to integrate the link there.
Such a link can be created with the following code:
  Booking Portal  
Of course you still have to customize the text and the link for yourself. Clicking on the link will then open the MySports booking portal in a new tab or window.
Why can't I integrate the MySports booking portal as an iFrame?
We deliberately decided against integration as an iFrame because the MySports booking portal has to handle functions such as self-service and online payment. And we cannot fully ensure the security of the communication if it is integrated as an iFrame. It would then be technically possible for the data entered to be falsified or stolen.
In order to guarantee you and your members the best possible security, these processes take place directly on the MySports booking portal.
However, we also offer an option to integrate your course plan into your website.
Is there anything else I need to consider?
In addition to the integration on your website, it is important that you populate the studio information, your services and your classes with public information that your members have correct information for booking.